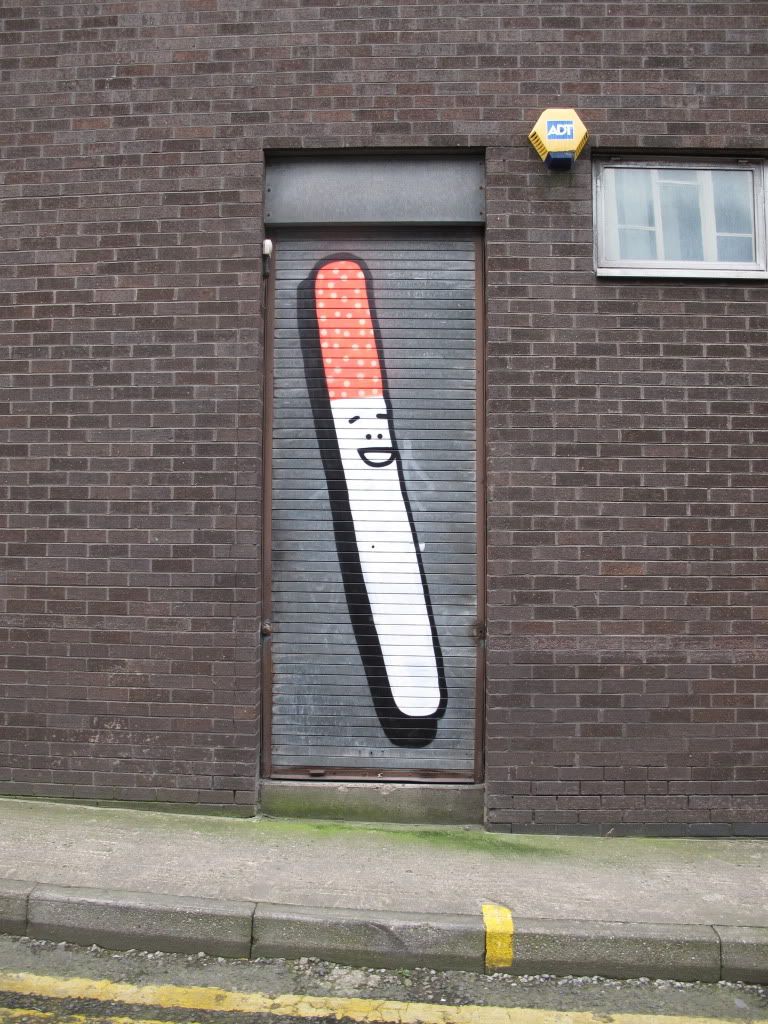 The industrial, concrete landscapes of Sheffield have given birth to a generation of graffiti artists whose urban aesthetics have taken over the city.
Some of the city's top paint-slingers such as Kid Acne and Phlegm have been so prolific and have had such an impact on modern street art that their talents are regularly employed for national and international commissions. But Sheffield's potential as a playground for these urban illustrators continues to lure them back. And as their artworks become more ambitious and as more budding art guerrillas take to the paint, the city is constantly being rewritten in the image of their individual and collective visions.
This is Incognito's tour of some of the best examples of street art in Sheffield. Follow the route on our interactive map or simply use it as an accurate guide to some of Sheffield's graffiti hotspots.

View Sheffield's Urban Art: City Centre in a larger map
Beginning at Devonshire Green, the route takes in some of the most creative and colourful spots in the city centre and will introduce a range of artists from the infamous to the obscure. Before its conclusion at the Leadmill, the visuals will have left you surprised, awestruck and hopefully inspired.
Devonshire Green
The Urban Art tour begins at the skate park on Devonshire Green. The boxes and quarter-pipes are constantly being restyled by Sheffield artists so take a look at the visuals on offer. Along Devonshire Street, you'll find children dancing beside a tribute to John Peel and a couple of hidden pieces by Phlegm. Hint: Look behind Rare and Racy and along Westhill Lane.
See how many magpies you can spot on your way down Division Street. Scattered from Devonshire Green to the City Hall, 'One for Sorrow' is one of the first pieces of street art by John Dowswell and throws you some surprises. And finally, make sure to stop into The Great Gatsby to check out the graff-styled interior and for a pint in the 'beard garden'.
 The Moor and Rockingham Way
Many people will be familiar with Phlegm's epic piece along the shutters of Rockingham Gate, depicting a city pulled in carts by an array of strange creatures in atmospheric monochrome. However, you might not be so aware of the recent additions on Rockingham Way where local artists (including EMA, Kid Acne and Phlegm) have had a bit of a field day. The contingent has evidently had fun decorating this little corner and it's a must-see for graff enthusiasts. Also look out for Stuart Faulkner's Def Leppard vignette on the Moor.
Eyre Street
Emerging onto Eyre Street from the Moor, you cannot miss the two designs by KidAcne splashed indiscreetly across the hoardings. Faunagraphic has also contributed to the city centre site on the Cumberland Street side. While you're here, look out for the new piece on Deacon House by Rocket and the tags by Anubis and others high up on the same building.
Brown Street and Sidney Street
The areas around Brown Street and Sidney Street have been at the heart of Sheffield's street art renaissance so have a good mooch around; the adventurous will be rewarded! Apart from the mural by Daisy Frossard (plus additions from Faunagraphic and Rocket) on the hoardings of Sidney Street, you'll find numerous murals by Phlegm, most notably at the back of the Rutland Arms (but make sure to keep your eyes peeled for an obscure piece on Brown Street too). Kid Acne has also been busy here with pieces on Sidney Street, Brown Street and Arundel Lane, including an impressive mural dedicated to Rolf Harris (best seen from Shoreham Street) and a collaboration with EMA, whose stickers have been pervasively posted throughout the area. The mural created by numerous artists at the juncture of Brown Street and Sidney Street is a highlight. But also check out the many stencils, tags and stickers through here, including a collection of Smurfs, another affront from Anubis and David Cameron with Morrissey-style quiff.
Taken from a secret location on Brown Street
Incognito refuses to endorse individuals endangering themselves in the pursuit of good-looking artwork. However, there are a number of secrets and surprises for those adventurous types willing to explore every avenue. Here are some snaps from just one of them…
Coming soon- Sheffield's Urban Art: Ecclesall Road and London Road…